Since 2019, Leki Nagahara and Kensuke Iwamoto have been appointed as the representatives of the Todoroki Shrine.
Originally the two "outsiders" barely knew the shrine existed, but have now inherited the responsibility from the older Ujiko members who have said, "From now on, it's up to the young people."
They live their daily lives by the sea and rivers, and their thoughts with the shrine.
Please visit the shrine if you have the time.
■ Profile
Leki Nagahara
Born in Shishikui, Kaiyo town, he started surfing at the age of 14. After traveling around Japan and abroad, he returned to his hometown in Japan in 2010. In 2016, he established an indigo dyeing studio, "in Between Blues", to explore and communicate the history and culture of his hometown through Awa indigo and the sea.
■ The reason I became involved with Todoroki Shrine
In 2010, I met a person at the osteopathic clinic where I was working part-time, and he was a shrine patron. Every year, young staff were asked to assist as bearers of the mikoshi (portable shrine), and I was asked to participate.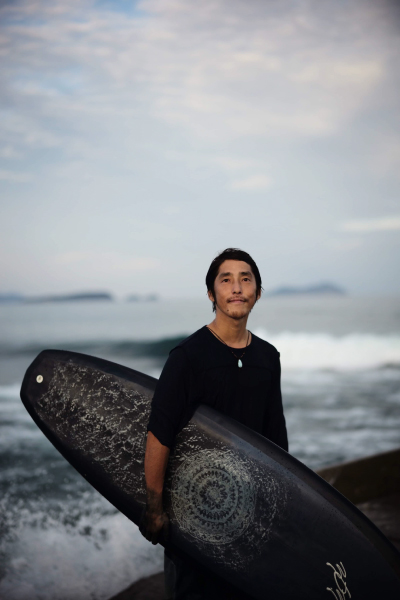 My father was a pro-surfer. Drawn to the waves at the mouth of the Kaifu River and Shishikui he and my mother moved from Kansai to Shishikui, where I was born. I first surfed at the age of 14. Up until then, I didn't have a good image of surfing because of the gap between surfers and other local people, as well my own personal feelings due to a complicated family background, but I was hooked the moment I rode a wave. The exhilarating feeling of moving with the waves on the ocean was something I couldn't change, and it cleared my mind of all the things I had been carrying around since I was a child. Surfing has become the core of my life since then.
---
After graduating from university, I traveled to various places in Japan and abroad to study surfing, music, and art. I was inspired by the wonderful people who took action to think about environmental issues while cherishing their hometown, and I was also impressed by the environment in Australia where organic food and daily necessities were commonplace.
After visiting various surf spots, I decided to return home to continue riding the waves at the mouth of the Kaifu River, which I was familiar with. In 2010, I returned to Kaiyo Town with a philosophy in mind that I had encountered in Melbourne, "Think Global, Act Local." As soon as I returned, I came across Tortoise, a sewing company that produces indigo-dyed products, and learned that indigo dyeing is an environmentally friendly dyeing method that uses the power of plants. It was astounding. The organic manufacturing that I was so impressed with in Australia was already being practiced in my hometown. Through Tortoise, I was able to learn from many people involved in Awa Ai (indigo), and I became convinced that the indigo dyeing culture and the natural environment of Kaiyo and Kaifu-gun are wonderful things with worldwide appeal. In 2016, I established an indigo dyeing studio, "in Between Blues", and have been trying to connect my core surf culture, indigo dyeing, and local culture through many attempts of trial and error.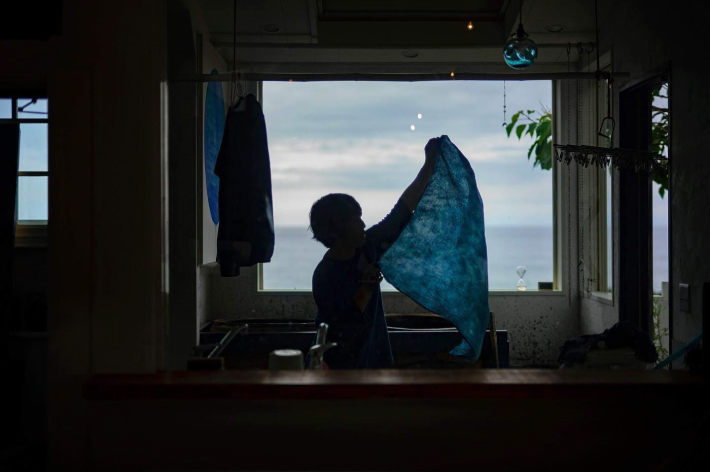 I first became involved with Todoroki Shrine in 2010, during its annual autumn festival. I knew about Todoroki Falls, but it was a long way from where I lived in Shishikui, and I was not sure if I had ever been there before. At the time, I was working part-time at the Kinouchi Osteopathic Clinic, and I met Toyoji Yamazaki, who was a patron of the Todoroki Shrine. I didn't even know what kind of festival it was, but it sounded interesting, so I casually raised my hand and said I'd like to participate. In reality, it was a hard experience, as I had to purify myself by getting naked in the cold and going into the waterfall many times. I almost drowned because the weight of the portable shrine made me sink in the waterfall. I will never forget the first time I swam deep into the waterfall for misogi (a Shinto purification ritual) and looked back to see the full moon shining right into the waterfall pool where we were. It was a breathtaking experience, and it made this place and the festival very special to me.
---
Since both surfing and indigo dyeing, which are the core of my life, rely deeply on water, my feelings for Todoroki Shrine, the god of water, became stronger. In particular, the waves at the mouth of the Kaifu River, which inspired me to return home and which I have enjoyed for so long, are connected to Todoroki through the Kaifu River. With that gratitude, I definitely want to protect the site of Todoroki and the festival.
One of my roles is to gather people to support the festival and shrine, such as the portable shrine bearers and the women who will provide the food. Through surfing, music, and traditional arts and crafts, I have made various connections, and with the help of social networking sites and public media, I have been able to get many people to participate. It's not always easy to get people to come to a local festival unless they are from the area or related to the local people, but the senior shrine patrons, such as Miyaji Umegae and Mr. Hara, the head representative of the patrons, do not reject people from outside, including myself and Kensuke. It may be that they don't want to reject us because they don't have anyone else, but it's still not easy to do. I really respect them for their open minds and warmth.
Whenever I have friends from home and abroad visit Kaiyo town, I do my best to show them around Todoroki Shrine and the Hontaki and Kujuku waterfalls. I would like them to experience the charm of the nature, history, and culture of this place and become fans. I will continue to work to expand this circle of friends who can support and protect it together.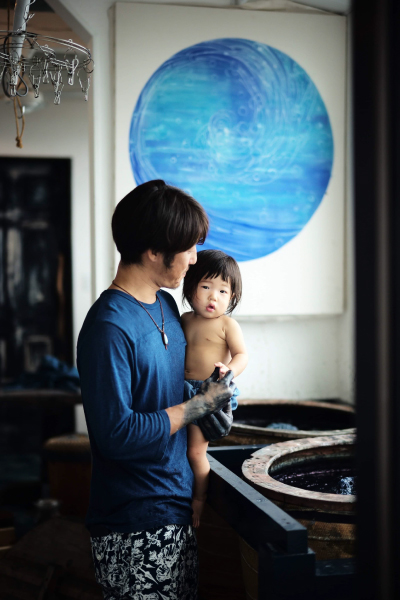 Todoroki Shrine has been worshipped by successive lords of the Awa Clan, and I believe it has a strong connection to the culture and history of Tokushima as a whole, including the nationwide distribution of Awa indigo and the Awa Dance. In addition to the attractions of the waterfalls and the festival themselves, I would like to promote the site by linking it to my own activities, such as indigo and surfing, in order to make more people aware of the sites historical significance.
Also, at present, many of the young people involved are from outside the area, including ourselves, but we hope to involve local people who have a connection to the area, so that the whole community can take care of Todoroki together. I hope that the people who benefit from the flow of this water will be able to protect this place in their own way. I also hope that more and more people who live in this town will take on the history they have inherited, protect the richness of life on this land, and act with respect for water and nature.
■ Profile
Kensuke Iwamoto
Born in Shizuoka Prefecture. He moved to Kaiyo town in 2013, and in 2018, he established ReBlue Inc. with his friends with the aim of "making the most interesting fishery industry in the world".
The company is engaged in oyster seeding and farming, sales and aquaculture.
■ The reason I became involved with Todoroki Shrine
In 2014, my friend who was supposed to be carrying the mikoshi (portable shrine) was unable to participate, so I suddenly took his place.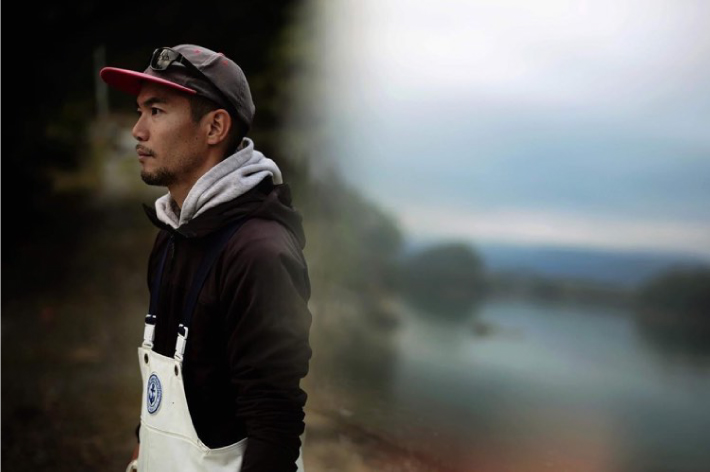 Due to my father's influence I have been fond of marine life ever since I can remember. I always took my nets and fishing gear to the sea or rivers. Every day, on my way home from elementary school I would play in the river, and I still can remember how long it would take before I would finally go home. I wanted to study marine life, so I entered the Department of Marine Natural Science at the University of the Ryukyus, in Okinawa. I obtained a PhD in molecular ecology, and worked as a postdoctoral researcher at the Okinawa Prefectural Fisheries Experiment Station and the University of the Ryukyus, before moving to Kaiyo town to work at a private marine biology research institute in Minami town. I didn't know much about Tokushima Prefecture and I hadn't chosen this place in particular, but after moving here I came to love the town due to its its beautiful ocean rivalling Okinawa, the clean rivers rich with life and where I can go fishing whenever I feel like it, therefore reminding me of my childhood.
---
Currently, I have established a company called ReBlue Inc., and am engaged in oyster seeding, farming and sales. At the company I previously worked for, I was in charge of test farming in Nasa Bay and other places throughout the prefecture, however the company decided to discontinue its oyster farming business. This was disappointing as the oysters were grown well and tasted delicious. More importantly, I didn't want to leave the oyster farming business because of the local fishermen and the fishermen's cooperatives that I had worked so closely with. Therefore I decided to quit my job and start my own business. At first, I thought it would be just a small side business that I could do on my own, with just enough for myself to eat and a little to sell, both in terms of cost and work, but my current business partners heard about it and found it interesting, so we decided to start a company together.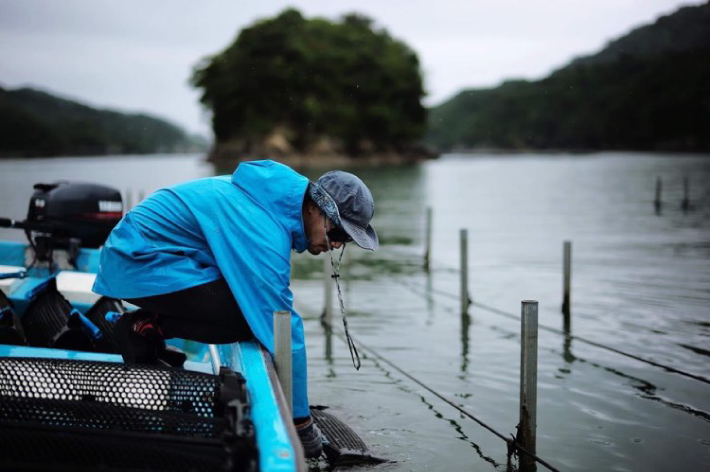 The first time I became involved with Todoroki Shrine was at the 2014 Autumn Festival, one full year after I moved to Kaiyo town. My friend who usually carries the Mikoshi (portable shrine) was unable to participate that year, so he asked me to take his place. Until this point, I had never even heard of Todoroki Falls or Todoroki Shrine. I was told very little about the festival, only that I would be staying the night before the festival and that I should bring a bath towel because I would get wet. I discovered that I had to undergo a harsh process: purify myself by going into the waterfall many times naked during the cold night before carrying the heavy mikoshi down the stone steps into the waterfall basin. Despite that, I had a lot of fun. It was fun to stay with everyone in the communal house the day before, drinking sake together and purifying ourselves when the time came. When the Festival was over, I felt a sense of vigor that I had never experienced before. I have participated in the Festival almost every year since then. The sense of accomplishment and satisfaction that you feel when you return to the shrine grounds after the ceremony and finish the festival safely is something special that only the bearers can feel.
---
I love fishing and sea-life, and my current occupation is in the fishery industry, so of course I am grateful to Todoroki Shrine for enshrining the god of water. However, the main part of my involvement with the shrine is simply my love for its location, including the Autumn Festival and the waterfall. I am involved because I want to do whatever I can to protect the Festival and the place I love. If Leki's role is "out front," then my role is behind the scenes. Until a long time ago, Todoroki Shrine had a large number of Ujiko (shrine patrons) and Soudai (representatives of the local community) who supported the shrine on a daily basis and took care of and guided the Mikoshikaki (portable shrine bearers) during festivals. In other words, all the Mikoshi carriers were either community figures, local residents or travelling guests. However, now that the number of local residents has decreased, the Festival itself would not be able to continue if the bearers themselves did not take the initiative. So someone had to take the role behind the scenes. I just happen to be doing it now, or rather, have been allowed to do it.
I see my role as passing on the rules and significance of the shrine and Festival to the bearers. Some of the bearers have only participated in the Festival once before, including travelers who came by chance. The excitement of this once-a-year festival, combined with the alcohol consumed the day before, sometimes makes it feel like everyone is taking it easy, even when it comes to purifying themselves, eating or taking off their shoes. But it is a ritual, and we want to protect what has been handed down from our ancestors, so we tell people to have fun, but do it respectfully.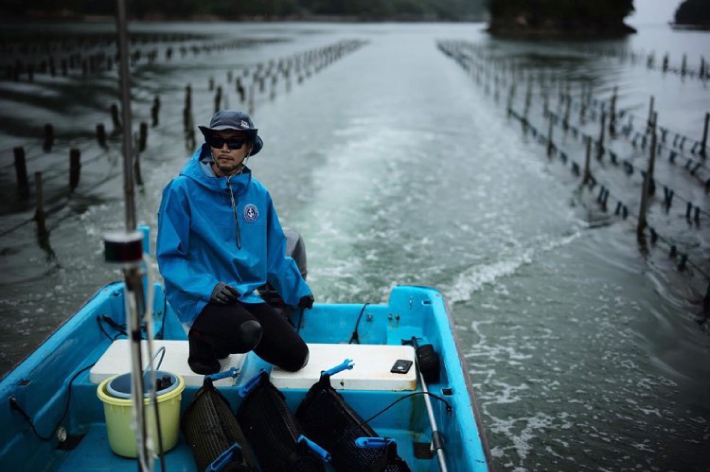 I believe that my primary role is to develop a way for people to learn about Todoroki, visit it and donate money.
This may sound like I'm trying to make money, but the number of Ujiko (shrine patrons) is decreasing, and it's difficult to raise money to repair the aging Shrine. Without the necessary funds, the survival of the Shrine will be endangered. In the future, I hope that the Shrine will become a site where people and money will gather even if it is left unattended. Not in large numbers, but just the right amount.
I would like to do what I can during my generation so that this place that I love, along with the teachings and history of our ancestors, can be passed on to the future.